I am absolutely obsessed with all things astrology.
No kidding, I check my horoscope on multiple sites daily, including Elle Magazine.
So when I came across these amazing tablescapes on
Elle Decor
, pairing two of my absolute favorite things. I literally swooned.
The zodiac, similar to home decor gives us a unique perspective on who we are.
The Elle Decor team linked up with the tabletop curators at 
Casa de Perrin
and floral designer Megan Gray of 
Honey and Poppies
 to create 12 astrology-inspired table settings that do just that.
I'm obessessed with how beautifully accurate these tablescapes match to each zodiac sign. Check them out.
Aquarius is confident, original, and a little quirky. This spirit is interpreted with a freeform flat lay of hybrid delphinium euphorbia, joyfully making their own path along the tabletop.
Verona Charger in Antique White, $75 | Bella Gold-Rimmed Water & Wine Gobletsin Agave, from $18 | Bella Gold-RimmedChampagne Coupe in Agave, from $23.50 | The Botanicals Dinnerware in Blue, from $4 (for rent) | Flatware in Antique Silver, $1.95 (for rent) | Antique Crystal Salt Cellars, $2 (for rent)
On the more literal side, this place setting evokes a calm feeling with a subtle aquatic vibe for Pisces using orchids, air plants, hellebore, tulips, and ornamental kale that looks like it could have been plucked from a coral reef. Pisces is sensitive and empathetic, but can want to run away from their problems – much like the tulips wiggling out of the floral arrangement.
Anna Weatherley Charger in Aqua Sky & Gold, $154 | Anna Weatherley Plates in White & Gold, from $28 | Chloe Gold-Rimmed Goblets, from $16 | 5-piece Madison Flatware in Distressed Gold | White Enamel on Copper Salt Cellars, $60 |Salt Spoons in Gold, $12 | Salad Plate in Mist by Heath Cermics, from $4 (for rent) | Chloe Gold-Rimmed Glassware: Goblet in Lilac, $2.95 (for rent)
 Aries are bold, fiery, and attention-grabbing, and they require a tangle of explosive blooms to match. To symbolize this energetic sign, this place setting incorporates festival bush, bronze amaranthus, scabiosa, banksia, roses, and ranunculus.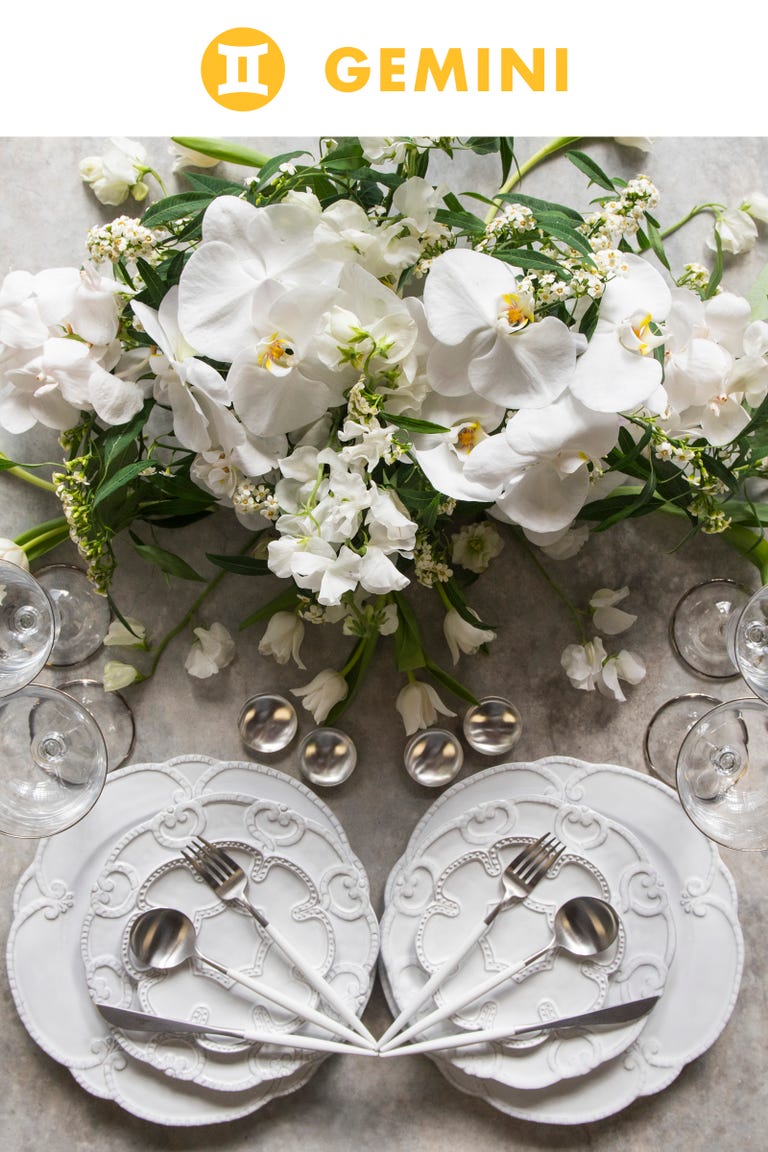 A Rorschach-esque floral arrangement that feels like a single setting splitting into two, best represents Gemini – twins who are charming, adventurous, and inventive. Here, orchids, tulips, sweet pea, and euphorbia do the trick.
The Signature Collection Dinnerware, from $28 | Chloe Platinum-Rimmed Goblets, from $16 | Chloe Platinum-RimmedChampagne Coupes, $21 | Goa 5-pieceFlatware in Brushed Steel & White, $89 | Silver Salt Cellars Set, $48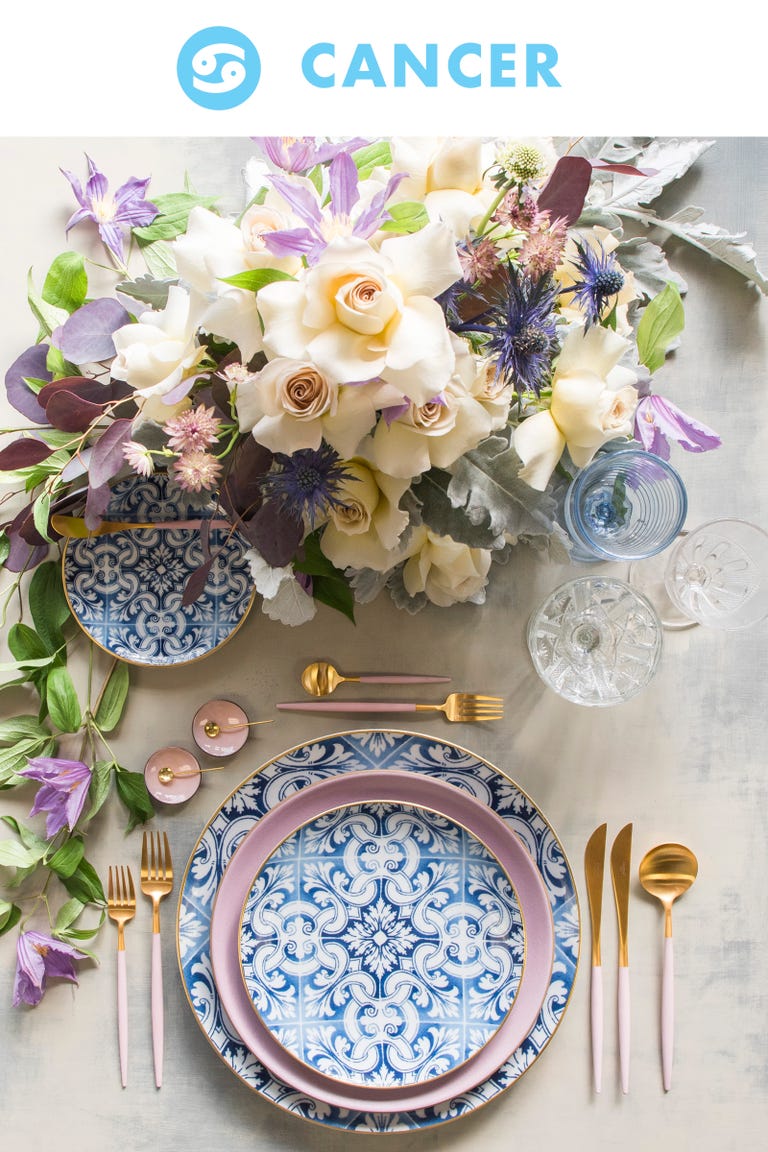 A soft and calming floral arrangement represents the nurturing, caring side of Cancers. A pile of Earl Grey roses is complimented with dusty miller, eryngium, astrantia, and eucalyptus, with pincer-like clematis trailing out.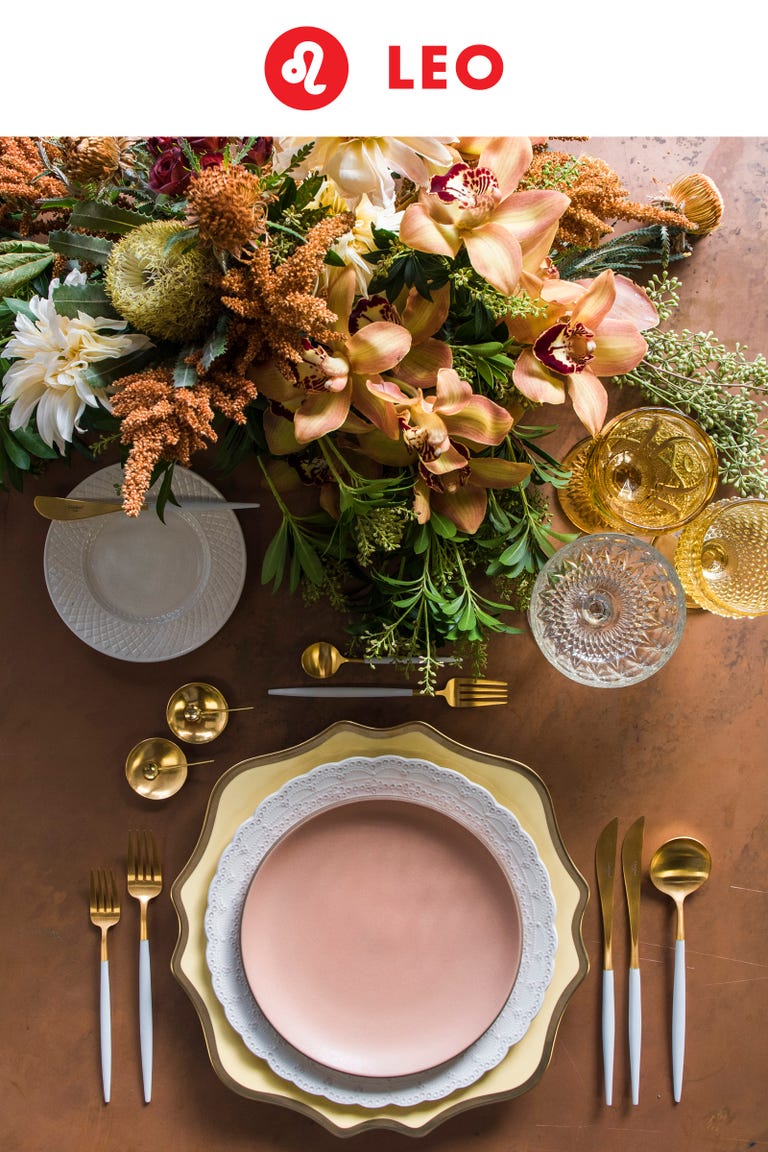 A golden mane of bronze amaranthus, orchids, protea, eucalyptus berries, dahlias, and orchids capture the bold, playful, dramatic Leo essence.
Anna Weatherley Charger in Sunburst Yellow, $154 | Goa 5-Piece Flatware in Brushed Gold & White, $89 | 14K Salt Cellars Set, $60 | Salt Spoons in Gold, $12 | The White Collection Dinner and BreadPlates, from $4 (for rent) | Salad Plate in Sunrise by Heath Ceramics, $6 (for rent) | Vintage Colored Goblets in Yellow, $2.95 (for rent) | Vintage Colored Goblets in Amber, $2.95 (for rent) | Vintage ClearChampagne Coupes, $2.95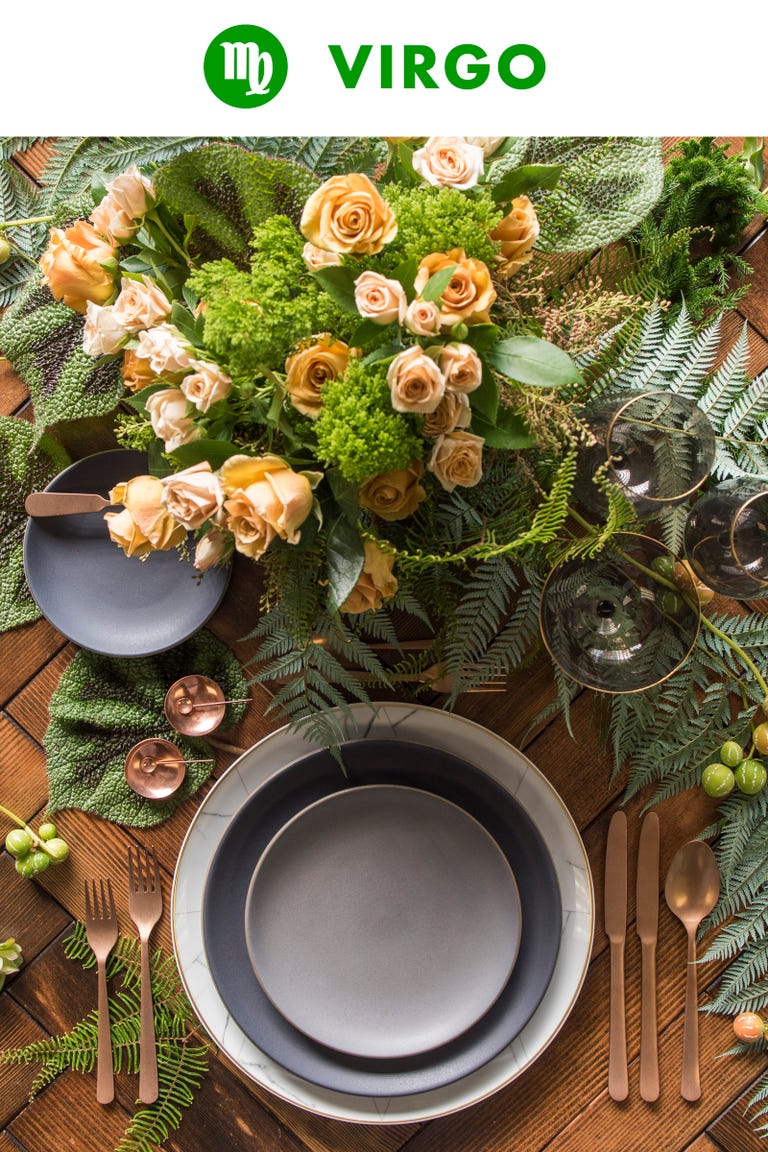 Virgos tend to be overly analytical and get caught up in the details, but they are also huge lovers of nature. This sentiment is represented by using many small, detailed, earthy foliages, including hellecho, sea star fern, begonia, pieris buds, hellebore, and vines, along with a mix of assorted earth-toned roses. The organic florals juxtaposed against the very structural herringbone tabletop make for the perfect Virgo mix of natural beauty and structural order.
Carrara Charger, $88 | Bella Gold-RimmedWater & Wine Goblets in Smoke, from $18 | Bella Gold-Rimmed Champagne Coupesin Smoke, from $23.50 | Oslo 5-pieceFlatware in Distressed Copper, $65 | CopperSalt Cellars Set, $44 | Copper Salt Spoons, $12 | Dinnerware in Indigo/Slate by Heath Ceramics, from $4 (for rent)